ZAHRA is a new documentary that tells of the passion and commitment of a single mother with four children, a refugee from Somalia, who overcomes obstacles to transform her life and make a difference in the community. Tackling crucial issues that affect social harmony, breaking down communication barriers between the old and the young, resolving conflicts between groups and clans, and campaigning on the global issue of female genital mutilation.
The film is available on DVD.
'ZAHRA is a powerful film showing a woman's journey to make a difference in
society, starting with herself. The films also shows how discussion can play a key
role in addressing and overcoming issues facing our communities and contains ideas
that could be applied for wide benefit in all our situations and communities.'
Esther Ridsdale, founder, The Civil Society Forum
______________________
A sequel to The Imam and the Pastor, shot in Kenya, was premiered in Nairobi on 11 June 2010 in the Amani Room of the Serena Hotel in Nairobi. 'Amani' means peace in Swahili and the room acquired its name after Kenya's post-election violence in 2008. It was here that Kofi Annan brokered the National Peace Accord and the formation of Kenya's present coalition government.
'This is a very important film. We need to learn, indeed, from Imam Ashafa and Pastor James and multiply in a thousand places their experiences of healing and reconciliation'
Kofi Annan, former Secretary-General of the United Nations.

More than one thousand people were killed following disputed elections in Kenya at the end of 2007. Imam Muhammad Ashafa and Pastor Jame Wuye - former militia leaders turned peace-makers from Nigeria - were invited to mediate in the worst-affected district. This film depicts their dramatic bid to bring healing and reconciliation after death and destruction.

This 38-minute documentary film is available on DVD.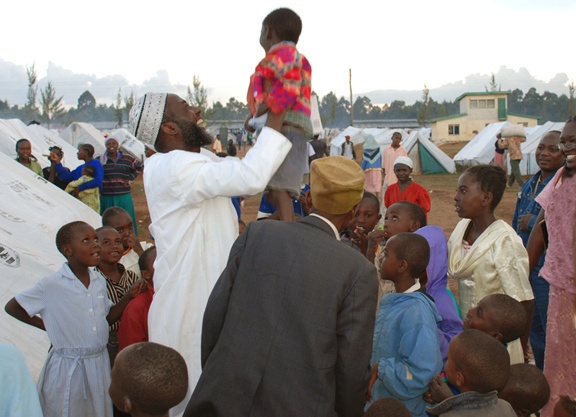 Imam Muhammad Ashafa interacts with children in the camp in Eldoret where 16,000 people took shelter after post-elections violence in January 2008.
Recent film
"The Imam and the Pastor" depicts the astonishing reconciliation between Imam Muhammad Ashafa and Pastor James Wuye, and the peace-making initiatives which have flowed from it. The film, narrated by Rageh Omaar, shows that it is possible for the perpetrators of inter-religious violence to become instigators of peace. It is both a story of forgiveness and a case study of grass-root initiatives to rebuild communities torn apart by conflict.